Worried about what's in your tap water? Get a quality whole house water filter from Ultra Tec Water Systems and your family can enjoy clean healthy water.
Whole house water filtration systems provide safe, clean, filtered water throughout your entire home for drinking, washing, and bathing. Not only that, but they can save you money by protecting your plumbing and eliminating the need to purchase bottled water ever again. 
Clean water is vital to human health, and throughout the centuries, technology has been developed to improve the quality of our drinking water. There's nothing more important than the quality of the water your family drinks and bathes in, and that's why choosing the best whole house water filter is so important.
Stainless Steel Filters
The very best options for water disinfection for the whole house, There are several methods that can be used effectively for the disinfection of water.
There are two main types of water filters for home use: backwashing filters and cartridge filters. The right system will depend on part what's in your water, the concentration of the contaminant, and how fast you need the water to be treated. If you aren't sure which type you need, call our helpful Certified Water Specialists at +971-4-2685336 and we'll be happy to assist you. Our team doesn't work on commission, and since we sell both types of water filters, our only goal is helping you find the right water treatment method.
One of the main differences between the two types of whole house water filter is the filter material. Cartridge filters include one or more removable filters that have a limited lifespan and must be replaced regularly. Contaminants in the water are typically trapped in the cartridge, and when that cartridge is all clogged up, it can be pulled out and replaced with a clean filter. Depending on the quality of your water and what the filter is treating, it may need to be replaced every 3 to 12 months.
A back washing filter – sometimes called a media filter – includes a large tank that contains a loose form of the filtering media. After a certain amount of water flows through the tank for treatment, the system is "back washed, " meaning that water is pushed through the tank in the opposite direction and most of the contaminants are rinsed away. While the filter media doesn't last forever, it can often be used for several years before it needs to be replaced.
A water filter can be very effective at removing specific contaminants from your water. The type of filter you need will depend on what you need to remove, however. A carbon filter can be used to remove chlorine and chloramines from your water, for example, but you'll need calcite or soda ash to treat acid water.
The right whole house water filter can treat the following problems:
Chemicals (including PCB, trichloroethylene, and other toxins)
Chlorine
Fluoride
Chloramine
Iron and manganese
Acidic water (low pH)
Sulfur (rotten egg smell)
Sediment, sand, and turbidity
Typically, a home water filter should be placed first (or second, after an additional sediment filter) in any water treatment system. Once the water has been properly filtered, it can then be passed to a water softener, if needed, the water heater, and the household taps.
Ultra Tec Water Systems is one of the professionals at Water Filtration Systems and have more than 20 years of experience in water treatment. We can help you come up with the most effective way of fixing your water problems. Whole house water filters are a great solution to treat specific water problems that affect your entire home, not just your drinking water. They are available in a range of sizes depending on what you need to treat and how many gallons per minute of treated water your family needs.
If you're concerned about chemicals or additives in your tap water, you can rely on a whole house water filter from Ultra Tec Water Systems to provide your entire family with clean, great tasting water. We offer many different types of water filter for home use, including those that can remove chlorine, fluoride, and iron. Call +971-4-2685336 today to speak to a Certified Water Specialist about your water problems and let us help you find the right home water filter for your family.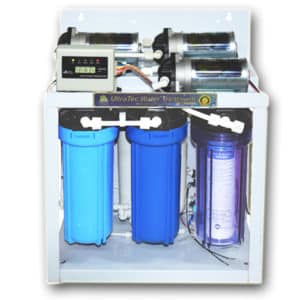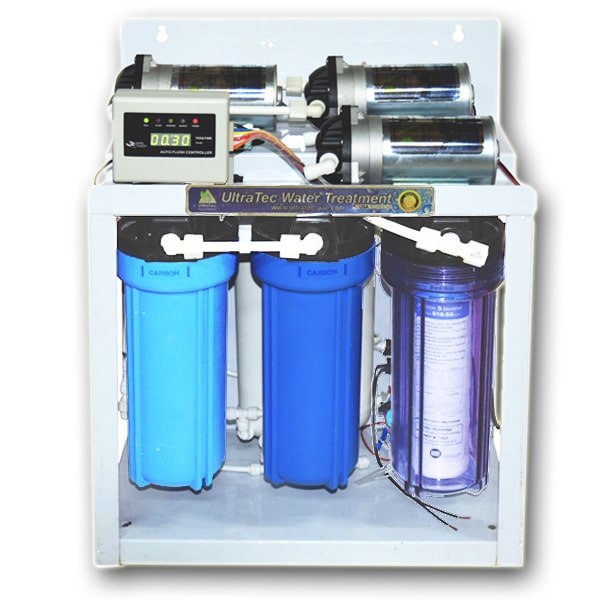 Commercial 5-Stage Stand type RO System 400GPD Per Day ( With Pumps ) (Automatic Flushing Membrane) ( With automatic flush controller which can flush RO-film regularly)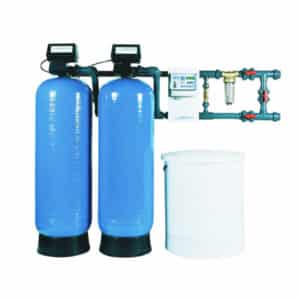 Industrial Water Softeners remove hardness ions from water through ion exchange, which exchanges hardness ions for more harmless ions, such as salt.Hard water is water that has calcium and/or magnesium salts dissolved in it. The degree of hardness is directly related to the concentration of these salts. Hard water consumes soap and adversely affects washing and cleaning operations in the home and throughout industry. Hard water salts form scale in pipe lines, boilers, heat ex changers, hot water heaters, water chillers & UV shells.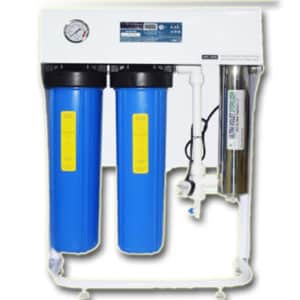 water sterilizers are designed specifically to kill harmful microorganisms such as bacteria and viruses in untreated water supplies (well water or surface water systems). Ultraviolet (UV) systems are commonly installed by homeowners who have received a positive coliform.