We have designed Commercial Reverse Osmosis Systems (RO) for a wide range of industries, from small companies, restaurants to large Hospitals and Lab facilities. We have systems available off the shelf that can be customized by our ISO 9001 certified factory to meet your water purification needs.
A typical RO System requires pre-filters (all systems come with sediment and carbon pre-filters, additional filtration may be needed based on your water conditions). The output is usually much slower flow. For larger applications , such as whole house and commercial use, we recommend a pressurized or atmospheric (stainless steel or plastic) storage tank. If drinking water is desired, a remineralizer tank is also recommended. For applications where slow flow is ok, such as lab water, you may use water directly from the system.
How do you know that you may need a large Commercial Water Filter?
If you need to process over 12 or more gallons per minute, or if an incoming water line is 1.5″ in diameter or larger, you may need a commercial water treatment system. Or if your need a water purification device capable of removing a specific contaminant, such as arsenic, fluoride, nitrates, iron, scale / water hardness etc. In some manufacturing processes and hospitals you may need an industrial water filter to provide high purity DI water.
A typical large tank-based Commercial Water Filtration system consists of one or more media holding, Poly Glass mineral tanks with a mechanical all-brass valve or an electronic metered controls. Units with electronic controls are self-backwashing. A second group consists of Commercial Reverse Osmosis Systems capable of filtering from 500 up to 10,000 gallons per day.
Reverse osmosis is a process whereby a solvent of high solute concentration is forced through a semi-permeable membrane to an area of low solute concentration by applying pressure. The feed water pressure must exceed the osmotic pressure in order for the process to work.  Thus, low pressure systems work with more dilute solutions, but highly concentrated solutions (such as sea water desalination) require greater pressures to work.  The fact of the matter is that reverse osmosis is the most economical technology to purify water to extremely high quality standards. 
What Makes Up a Complete Reverse Osmosis System?
A typical reverse osmosis system is much more than just to "RO Component."  A complete Reverse Osmosis System generally includes several other components, such as:
Pre-Treatment – this includes carbon filters to remove chlorine, iron, manganese and sulfur filters, water softeners or ant-scalant systems.
Storage and Distribution – RO systems make water slowly, so a tank is required.  There are two (2) types of tanks – atmospheric and bladder types.  Atmospheric types are typically bigger and since there is no bladder to supply back-pressure, the water quality is higher in an atmospheric tank verses a bladder tank.  Smaller systems (generally under 1, 000 gpd often use bladder tanks from 14 to 80 gallons, while larger volume systems use atmospheric tanks from 75 gallons to 2, 000 gallons.  When using an atmospheric tank a booster pump must be utilized to re-pressure the water and distribute it.
Post-Treatment – this includes ultraviolet disinfection (UV) or ozonation to kill bacteria, pH adjustment to raise the pH or add some hardness back to the water and/or deionization to totally demineralize the water.
Instrumentation – monitoring the end water quality is often desirable, so a number of instruments and analyzers are available to facilitate that.
Ultra Tec Water Systems is one of the professionals at Water Filtration Systems and have more than 20 years of experience in water treatment. We can help you come up with the most effective way of fixing your water problems. Whole house water filters are a great solution to treat specific water problems that affect your entire home, not just your drinking water. They are available in a range of sizes depending on what you need to treat and how many gallons per minute of treated water your family needs.
If you're concerned about chemicals or additives in your tap water, you can rely on a whole house water filter from Ultra Tec Water Systems to provide your entire family with clean, great tasting water. We offer many different types of water filter for home use, including those that can remove chlorine, fluoride, and iron. Call +971-4-2685336 today to speak to a Certified Water Specialist about your water problems and let us help you find the right home water filter for your family.
RO systems are powerful systems that are capable of taking out large amounts of salt, minerals, and other contaminants from water sources such as wells, rivers, and lakes. To master this mission, the systems take use of a popular technology known as "reverse osmosis". Reverse osmosis is ordered with the reversal of a natural process known as "osmosis". Osmosis is ordered by nature to transport salt through a semi-permeable membrane from an area of low solute concentration to an area of higher solute concentration in order to gain an even amount of solute concentration on both sides of the membrane. Reverse osmosis combats osmosis via a pressure pump that exerts high pressure on the highly concentrated side of the semi-permeable membrane, moving only water molecules through the small pores of the membrane while salts, organics, and other contaminants are denied passage.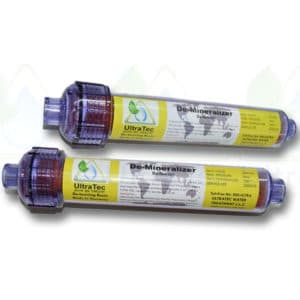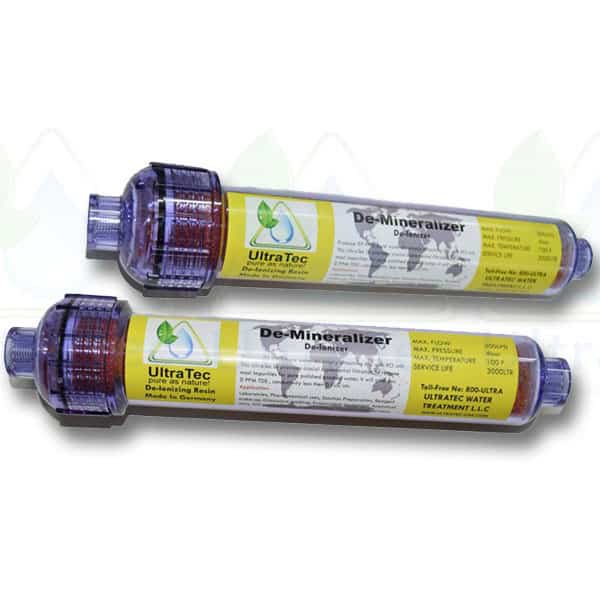 DI is Demineralization by Ionization. A DI filter removes the few mineral ions that make it through the RO membrane; this makes sure that the water is as pure as possible. The DI filter also removes nitrates that are not removed by the membrane. The DI filter is a cartridge filled with an ion exchange resin in the form of small beads. When the water passes by the beads, the minerals and other ions leave the water and attach to the beads.
Reverse Osmosis Systems feature a unique and innovative compact design that allows for easy installation in any size area. The high grade corrosion resistant aluminum frame features a modular 2-in-1 design that allows for the system to be divided into multiple assemblies for easier mounting.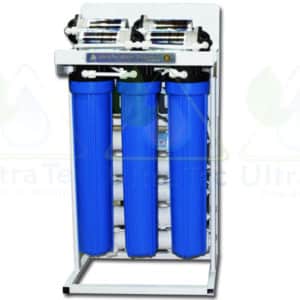 200 GPD 400 GPD reverse osmosis water purification  Complete light commercial RO System
Production Capacity: 100GPD, 150GPD, 200GPD, 300GPD, 400GPD, different RO membranes for selection: CSM, FILMTECH, VOLTRON
It is suitable for manufacturing, restaurants, Aquariums, food processing industries, shopping centers, schools and hotels.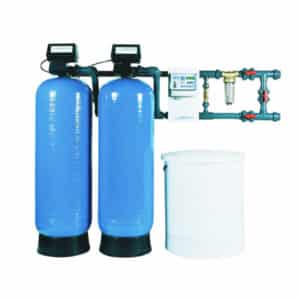 Industrial Water Softeners remove hardness ions from water through ion exchange, which exchanges hardness ions for more harmless ions, such as salt.Hard water is water that has calcium and/or magnesium salts dissolved in it. The degree of hardness is directly related to the concentration of these salts. Hard water consumes soap and adversely affects washing and cleaning operations in the home and throughout industry. Hard water salts form scale in pipe lines, boilers, heat ex changers, hot water heaters, water chillers & UV shells.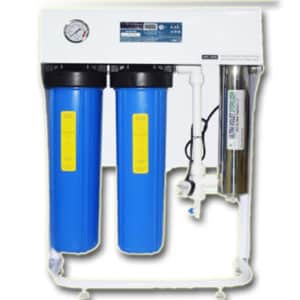 water sterilizers are designed specifically to kill harmful microorganisms such as bacteria and viruses in untreated water supplies (well water or surface water systems). Ultraviolet (UV) systems are commonly installed by homeowners who have received a positive coliform.