How

 to Remove Chlorine from Drinking Water?
Reverse Osmosis water filtration systems that incorporate carbon block filters are an effective way to remove up to 98% of chlorine in water. Carbon block prefilters will not only remove chlorine in water, but also protect delicate RO membranes that can be damaged by contact with chlorine.
Why is Chlorine Used?
Chlorine has played an important part in keeping America's water supply safe for more than 100 years. As an inexpensive disinfectant, chlorine is by far one of the most popular and efficient ways for municipalities to remove pathogens such as bacteria, viruses, and protozoans that can grow in our water supply. 
We are one of the cleanest water treatment products supplies in the world and no one will argue that chlorine serves an important purpose. But despite chlorine's benefits, new questions have arisen about the adverse affects of chlorine — and many households are now looking for ways to REMOVE chlorine from their water before drinking and bathing.
The Downside of Chlorination
Besides the fact that many of us don't care for the strong 'bleach-like' odor of chlorinated drinking water, there are other compelling reasons to want to remove chlorine from the water that we're drinking — not to mention the water we use for showering, bathing and swimming.
One of the main issues is that chlorine can react with naturally occurring organic and inorganic matter in our water to form dangerous disinfection byproducts such as trihalmethanes (THMs) and haloacetic acids (HAAs) which may pose health risks.
Solutions for Chlorine Removal
Those looking for an economical, yet effective way to remove chlorine or chloramines from water might consider installing a Reverse Osmosis System. The carbon filter in an RO System (as a pre-filter/post filter) can remove chlorine while the other filters and membrane in the RO System will remove a variety of other constituents — to provide top-quality drinking water.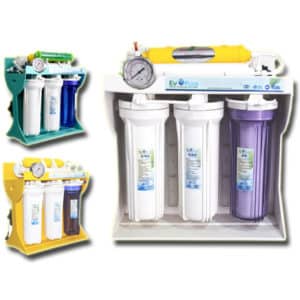 The EVO PURE Reverse osmosis Systems with Booster Pumps are traditional in design with Good Quality filter housings and a pressure tank.