Using ultraviolet (UV) disinfection on drinking water systems
Ultraviolet disinfection is a well-established method for achieving adequate disinfection for drinking water supplies. UV disinfection is a process intended to inactivate human pathogens such as viruses, bacteria  that are potentially present in raw water before receiving proper disinfection. As water passes through the UV unit, an ultraviolet range of light inactivates these human pathogens.
ultraviolet to effectively kill micro-organisms, it has to be able to effectively transfer ultraviolet light through the quartz sleeve into the water stream. However, if there are particles or contaminants in the water or if other contaminants like iron or manganese coat the quartz sleeve, the UV light may not be effectively transferred into the water supply and some bacteria will survive.
What Does 'Disinfection' Really Mean?
The "disinfection" is the process of destroying or prevent the growth of diseases carrying by microorganisms. But what does this really mean? There are two main types of disinfection: chemical and physical. Chemical disinfection requires a substance to be added to the water (or other material) to kill or inactivate microorganisms. Chlorine, for example, is a very commonly used disinfectant for water treatment. Physical disinfection, on the other hand, treats the substance being disinfected but does not add anything to it. Boiling water, for example, will kill many dangerous bacteria and leave the water safe to drink.
Chemical disinfectants have been used very successfully for many years, but they carry a number of risks. Chlorine, for example, is used by many water treatment plants because it's relatively inexpensive and very effective. However, chlorine and chloramines (a related chemical disinfectant), often react with other compounds in the water, which are chemicals compound. Many people also find that chlorine treated water has a particular smell and taste that they find objectionable.
Physical disinfectants are often preferred over chemical means because they don't add anything to the water that could produce dangerous by products. There are challenges with physical methods, however – after all, you wouldn't want to always have to boil all of the water in your home before you use it! UV water treatment has come a long way in recent years, and most people find that it's far superior to chemical means for treating water in their homes or businesses. Note that these systems are sometimes called "UV water sterilizer systems, " but this is misleading; it's nearly impossible to prove complete sterilization, but well-designed UV systems can kill or inactivate 99.99% of many dangerous microorganisms.
How Does UV Water Treatment Work?
UV water purifier works quite simply by exposing your water to certain wavelengths of ultraviolet light. This light damages the nucleic acids and DNA of the cells.  UV light doesn't necessarily kill microorganisms, but it is very effective at inactivating them and preventing them from reproducing colonies. Keep in mind that the only thing that microorganisms do in life is replicate and make colonies, which is why we get sick if we consume them in large amounts through our drinking water. These organisms can enter our system and will pass right through without causing any illness.

Giardia lamblia

Cryptosporidium

E. coli

Legionella

B. subtilis
DNA is the genetic coding found in all living things. Within each DNA strand there are different sequence codes, with each sequence coding for different characteristics. UV light can be damaging to DNA – in fact, the reason that it's a good idea to wear sunscreen when you're outside is because the UV light in the sun's rays can damage the DNA in your skin cells, causing them to reproduce incorrectly and leading to skin cancer.
Because microorganisms are very simple creatures, their DNA is primarily coded for replication. The light from a UV water purifier is absorbed quite readily in one spot in the DNA strand causing it to break the bond.
Products for Ultraviolet Disinfection water treatment process
Advantages and Disadvantages of UV Water Treatment
Advantages:
Physical disinfection adds no potentially harmful chemicals

Virtually instantaneous disinfection, requiring no holding tanks like chlorination does

No change in taste, odor, pH or conductivity of treated water

No handling of toxic chemicals, including special storage requirements

No disinfection by-products (e.g. THMs)

Very low power consumption

No removal of beneficial minerals

Very low setup cost and low operational expense when compared to other technologies

Environmentally friendly

Universally accepted treatment process for potable and non-potable supplies

Automatic, unattended operation
Disadvantages
Water must be pretreated for a UV water filter to work effectively

Power is required; during a power outage, the system will not work

UV lamp should be changed yearly

No residual protection – once the water leaves the UV water purifier, it could become reinfected

UV water treatment works best with high quality water with little or no sediment

Easy maintenance, with no moving parts to wear out

Safe to use

More effective against cysts than chlorine
Customers Were Interested In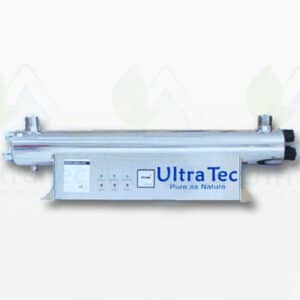 Great for well water and as an add-on to any whole house, commercial and industrial water filters or any other 36 GPM flow filtration application. 36 GPM Ultraviolet Water Sterilizer System manufactured with axial flow reactors in 304 stainless steel and comes with 1" MNPT connections.
Great for well water and/or as an add on to any whole house, commercial and industrial water filters or any other 24 GPM flow filtration application.24 GPM Ultraviolet Water Sterilizer System manufactured with axial flow reactors in 304 stainless steel and comes with 1" MNPT connections